The application of high-grade igusa texture and breakthrough functionality
The unique beauty of a Japanese atmosphere. The charm of rich color and functionality.
TOKYO SERIES
This series uses MIGUSA tatamiomote, which is made from a combined balance of durable polypropylene and a natural inorganic material (moisture absorbing calcium carbonate) that has a natural texture. While this tatami uses an inorganic material as a base, with consideration to the environment it does not emit dioxin or any other toxic substance when burned or disposed of.
Compared to natural igusa, MIGUSA is strong, durable, and does not fade as easily. It has also been treated with water repellent and can be easily cleaned with a damp cloth.
Unlike with igusa, mites and mold are not a problem. MIGUSA is also not as slippery and has the same amount of cushioning as igusa.
Available in various colors, these mats can work with any interior, adding to the atmosphere.
One Mat Size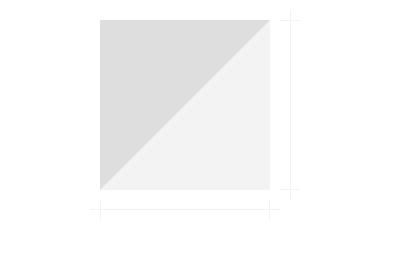 Four Points
Slow to fade and keeps its integrity for a long time.

Compared to natural igusa, the color keeps its vibrancy longer and is extremely durable. Color barely changes, even in rooms with a lot of sunlight.

Easy to clean, resistant to water and dirt

Compared to natural igusa, it is easy to clean and maintain. The surface has gone through a water repellent process, so even spilled coffee can be wiped up easily.

Safe material with no risk of sick building syndrome

This material is safe and does not emit any indoor pollutants such as formaldehyde, etc. that cause sick building syndrome.

Safe for children and seniors, it's cushioned and hard to slip on

The TOKYO Series has a similar sponge-like structure to natural igusa providing flexibility. Even if you fall, the mat absorbs the shock.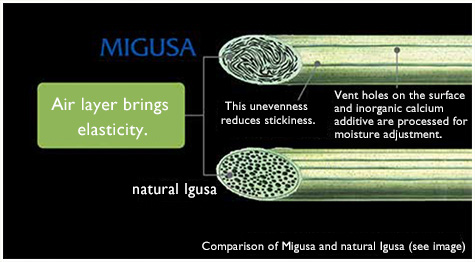 Tatamiomote made with MIGUSA is a man-made stalk similar in structure to igusa in that internal air gives the material some cushion.
The surface has many microscopic holes which allow the material to breathe and adjust the humidity of a room.
Choose the color for your needs